For Your Safety,
Don't share your password with anyone else!
Change your password regularly!
Create and use passwords that are unique and not easily guessed by anyone else.
Passwords that contain letters, numbers, and symbols are much harder to find than anyone else's.
Your password must contain at least 8 characters. Avoid using Internet Banking passwords for other services (eg Hotmail, Yahoo, Facebook, etc.) Never write passwords.
American Bank of Investments will never ask you for your Internet Banking account password. If someone does this then he / she does not represent American Bank of Investments.
After a number of failed attempts to access the online account, the account becomes inactive.
To reactivate the account, contact the Help Desk service of American Bank of Investments.
Use Antivirus programs and update them periodically. If these programs are not refreshed, they are not effective.
Use Firewall programs to filter out incoming and outgoing traffic from your computer.
Make security updates for your computer programs based on instructions given by the legitimate developers of these programs.
Do not access via Link any page that asks you to provide personal, confidential / sensitive data or pages that require you to perform banking transactions.
Check that the Internet address of Internet Banking is correct.
Do not use e-banking from computers that are for public access (internet café, etc).
Never use software to download programs or files "File Sharing" or "Peer to Peer". They are often used to open secret pirate communication channels to and from your computer disguised as harmless file sharing programs.
Never send confidential data via email, despite the fact that the request appears to have come from a legitimate source.
When you log in to your Internet Banking account you are told that you are using a secure session. You can make sure you are communicating using a secure session if the Internet Banking URL address starts with https: // and then the exact name of the Internet Banking page.
Whenever you finish Internet Banking, please press the "EXIT" button and also close the browser.
In case of suspicious or unauthorized activity on your account then contact Help Desk immediately.
Scams, fishing
Scams and fishing are a common way to obtain personal and/or security data (bankcard number, secret password, PIN, etc.). Identity thieves send an e-mail to random addresses, which mail contains a hyperlink.
By clicking on this hyperlink, customers are directed to a site, where they will be asked to enter their secret password and other personal data. These web pages may have the same characteristics as Abi Bank Internet bank page.
In order to be protected from these cheating methods, please consider the following preventive measures:
Do not in any case reply to these types of emails or SMS. ABI Bank bankers do not ask any personal information (IBAN data, account data, E-Banking Passwords or similar) via e-mail, SMS or other communication methods.
Be aware of telephone calls, SMS and e-mails informing you about data of your E-Banking service, and therefore asking you to contact the customer service on a given number. Please never do so, instead kindly contact ABI Bank Network Bankers by e-mail

[email protected]

or Phone +355 42 258 755.
During the use of our E-Banking services - prior to logging in - please make sure, that your computer is communicating with the server of ABI Bank. To be sure of this you must check the following:
1. Address (URL) of the ABI Bank Internet bank page: https://www.ebanking.abi.al

2. By clicking on the animated logo the digital certification from Thawte will appear in the following format with the following content.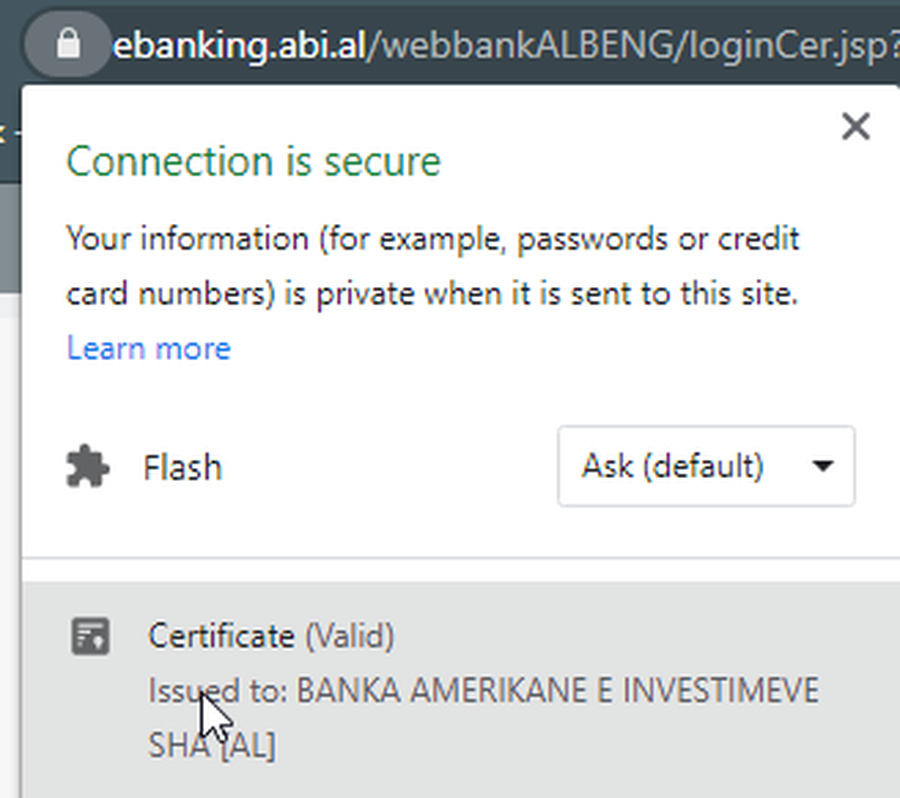 Abi bank uses this communication channel only for customers that have accepted that this kind of information is going through SMS (informing, marketing or OTP codes for e banking).